As an Australian homeowner, you probably own a lot of garden equipment, outdoor toys, sporting goods, and other items that need a proper storage space. They can take up a lot of room, and it is helpful to have a place where all these items can be stowed so that you can keep the existing storage areas in your home or garage available for other stuff. A quality, affordable shed kit from Sheds4Less is your answer, it provides you storage for all your outdoor equipment.

Sheds4Less has a comprehensive range of shed sizes, types and colors to suit most back yard situations.

Sheds4Less offers shed kits for lower prices than you would pay at traditional hardware stores, shed retailers, and other websites because of our innovative kit shed supply system. We manufacture our sheds with very little waste, which cuts down on the cost of the metal used to manufacture our sheds. This lower cost is then passed on to you in the form of lower prices.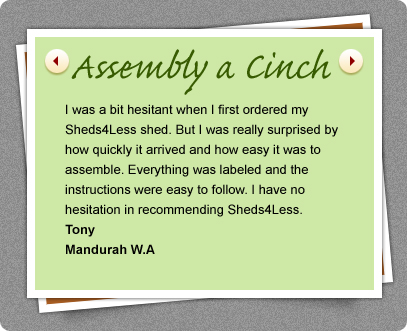 Each shed kit that you order from Sheds4Less is delivered right to your door, ensuring that you do not have to figure out how to transport our quality sheds to your home. Once delivered, our sheds are easy to assemble, in fact if you have ever assembled a piece of Ikea flat pack furniture, you won't have a problem erecting a Sheds4Less shed. Our 30 year warranty is the longest in the industry and we are able to offer such a long warranty as we know the quality of the workmanship and materials that go into making every one of our sheds. We want you to share our confidence.

Your shed will come packed in either five or six boxes that weigh around 25kg each and have handles on the side so they are really easy to move around your site.