When it's time to look for sheds in Darwin it can be a bit of a hassle finding what you really want. Because most shed companies focus on the East Coast getting exactly what you need can be time consuming and expensive. Flat pack garden sheds won't fit in most family cars, and delivery prices can often be prohibitive. Sheds4Less has your answer. We can deliver the perfect garden shed to suit your needs anywhere in Darwin or surrounding areas, saving you lots of time, money, and hassle. We have a range of sheds in convenient sizes, roof styles and colors. Because at Sheds4Less we do not have any "middlemen" you can be assured that you will get your shed for less.

Maybe you've thought about building your own shed for a long time. Sheds4Less makes the decision easy - our sheds are inexpensive and delivered straight to your door, no matter where you live in Australia.
It can often be difficult to find and then transport a good quality shed in Brisbane so let Sheds4Less do the hard work. Most family cars won't accommodate a flat pack shed, so save your time and the inconvenience by ordering your shed from Sheds4Less and have it delivered direct to your door. Our sheds are not only inexpensive, they're also durable. A good shed should be able to withstand all kinds of weather - even the brilliant hot summers Darwin is famous for.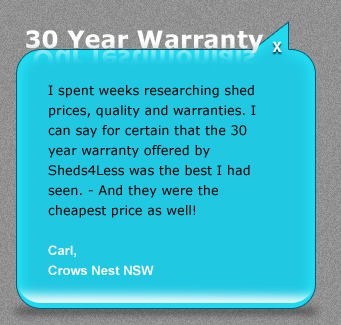 Other sheds can warp in the heat, but we're so confident in our product, we offer you a 30 year warranty, a guarantee you won't find anywhere else. You'll be able to enjoy your new shed, knowing it's protected under our unique 30 year warranty.
Whatever your outdoor storage needs are, Sheds4Less can help you find the perfect fit for your home and find it for significantly less than other shed companies. With our Australia-wide delivery, we will quickly get your shed delivered, so you can start building and start to get your yard organised.