Priming & Topcoats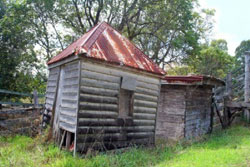 Now and this is the important part, if you are going to paint the shed within 12 months of erecting it, after completing the cleaning process you will need to first apply a coat of galvanised iron primer. This is a water based bonding primer to provide a strong base for the top coat to adhere to, otherwise you run the risk of the top coat peeling off!

If you leave the shed for over 12 months before painting you can us a self-priming 100% acrylic top coat without the need for using a galvanised iron primer, but only if the garden shed is over 12 months old and only after you wash the shed using one of the above processes.
The final step in painting your garden shed is simple.
Clean, prime and then apply two coats of an Ultra Premium 100% Acrylic House Paint produced by any of Australia's leading paint manufacturers such as Taubmans, Dulux, Haymes or Wattyl.
When you follow this recommended system then you can expect that the next time you need to paint your shed will be in about 20 years, if you don't, then it well could be a lot sooner.
Download the How to Paint a Metal Shed tip sheet here.
For any additional information about this or any other painting project send an email to:
Lance C Futcher
PaintGuru Pty Ltd.
lance@paintguru.com.au