Don't wait weeks, we can get you your shed in as little as 4-5 working days.
Sheds4Less provides an excellent alternative to consider for your garden shed purchase. Delivering to Ballarat is not a problem, in fact Sheds4Less provides delivery anywhere Australia. Most families cannot fit a flat pack shed in the family vehicle to take home so why not take all of the hassle out by getting your shed delivered direct to your door. Whether you are the do it yourself type or just looking for a more cost efficient alternative, Sheds4Less is the right choice.

Sheds4Less have a great range of garden sheds in stock and we accept all major credit cards and Paypal. We are sure to have the perfect shed to fit in your garden as well as your budget. Sheds4Less offers a great range of shed sizes, roof types and colors. All at prices that are without a doubt the cheapest you will find in Ballarat. We can sell at these prices because we cut out the middleman and pass the savings back to you.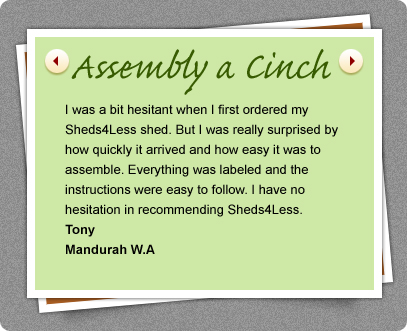 Sheds4Less sheds are very easy to erect and allow any person the satisfaction of building a garden shed on their own. In fact if you have ever put together DIY flat pack furniture from Ikea you will have no problems erecting one of our sheds. All Sheds4Less garden shed's come with a 30 year warranty. We offer this warranty because we know the quality of the materials we use to fabricate your shed.