Do I need a permit for a garden shed is one of the most commonly asked questions we get at Sheds4Less.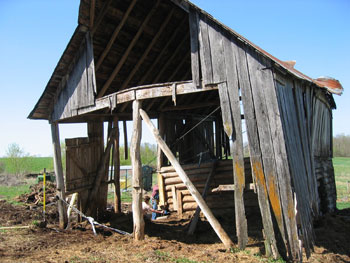 Most small garden sheds are considered to be exempt or complying developments by Councils and do not require you to apply for a Building Permit or Development Application.
Councils throughout Australia are relaxing the requirements for shed building permits. The objective is to reduce red tape and to enable Councils to concentrate on more important building approval and DA application tasks. This is good news for anyone who wants to build a back yard garden shed.
The shed permit and approval process is being streamlined in all States of Australia. As of 2011 the streamlining process is still in flux and it is best to contact your local council to get definitive answers.
However a number of States are well down the track and below is a summary which will help determine if you can build your shed without a permit or approval from your local Council.
Learn about garden shed set backs and distances from fences and boundaries by watching this short video.
Want to know more about exempt and complying developments and how they relate to garden sheds? Then watch this short video.
Our sheds are built to comply with the Australian Building Code regulations and in a majority of cases qualify as an exempt and complying development.
New South Wales
On the 27 February 2009 State Environmental Planning Policy (Exempt and Complying Development Codes) 2008 (the Codes SEPP), which has state-wide application commenced. This new Codes SEPP contains exempt development types and complying development types for certain types of development.
Garden sheds that comply with certain guidelines are considered exempt developments. These guidelines are as follows.
To be exempt development the development must not be carried out on land that is an environmentally sensitive area.
You don't need permission from council to build or install cabanas, cubby houses, ferneries, garden sheds, gazebos and greenhouses if:
There are no more than 2 per lot.
If it is on land in rural zones RU1, RU2, RU3, RU4 and R5 – be no larger than 50sqm.
If it is on land in all other zones - no larger than 20sqm.
It is no higher than 3m above the ground level.
If it is on land in rural zones RU1, RU2, RU3 and RU4 - be located behind the building line of any road frontage.
It is set back a minimum of 900mm from each boundary.
It is located in the back yard if your property is in a heritage conservation area or a draft heritage conservation area.
If it is located adjacent to another building—be located so that it does not interfere with the entry to, or exit from, or the fire safety measures within, that building.
It cannot be a shipping container.
The disposal of any roof water must not cause a nuisance to adjoining owners.
In residential zones, any metal parts of the structure are to be low reflective, factory pre coloured materials.
If your property is bushfire prone land and the structure is going to be located less than 5m from your house or a neighbours house the structure must be constructed of non combustible materials.
What is a class 10A building and what does it mean? - click here.

Victoria
Sheds do not require a permit or approval in Victoria if they meet the following guidelines.

Have a floor area of 10m²
3m or less in height, or, if situated within 1m of a boundary, is no more than 2.4m in height
located no further forward than the front wall of the single dwelling
Individual Council guidelines can be accessed via the following link.
http://www.vic.gov.au/property-planning/building-construction/permits.html
What is a class 10A building and what does it mean? - click here.
Tasmania
If you wish to completely avoid applying for planning and
building permits, the shed will need to be built within these
guidelines:
Less than 9.0m2 in area (eg. 3m x 3m);
Walls less than 3.0m in length;
No part of the shed higher than 2.1m above natural ground level;
Pitch of roof less than 25o ;
Built in rear yard;
House must not be Heritage listed or in a Heritage Area;
Only one shed on the block.
If you also wish to avoid applying for a plumbing permit, the shed will need to comply with the following guideline:
What is a class 10A building and what does it mean? - click here.

South Australia
You will require Development Approval for a shed or other similar structure only if:
Its use is more than secondary to a house
(e.g. a separate house or business); and/or
The floor area exceeds 15m² (10m² in the North Adelaide Historic
Conservation Zone); and/or
The width or length exceeds 3m and no part of the building is more than 2.5m
above the natural surface of the ground and/or
Is being constructed, added to or altered so that any portion is:
- situated in closer to the street than the main building on the land
or
- is within 900mm of a boundary of the land with a secondary street (if the land has frontage to more than 1 road
It is located within 6m of a corner boundary that faces two roads, other than
where a 4m by 4m corner cut off has been provided and/or
If your property is identified as a Local or State Heritage Place
The following elements should be incorporated into the design of garages, sheds,
carports, verandahs, pergolas and shade houses, particularly if they are located on
side boundaries:
A size and shape that complements and does not dominate the existing
house or nearby houses;
Building materials, colours and textures that complement the existing house or
nearby houses; and
Minimal overshadowing of the windows and private open space of
adjoining properties.
What is a class 10A building and what does it mean? - click here.

Western Australia
A garden shed used for domestic purposes less than 10 square metres in area can be built without the need of a building license if it complies with the following:-
located behind the front setback line;
does not interfere with vehicular sight lines;
can be located up to the side (including secondary street) and/or the rear
boundary provided it complies with the fire safety requirements of the Building
Code of Australia (set back from other structures on site by at least 900mm);
built structurally sound from quality materials and restrained to prevent
uplift by wind;
all stormwater is to be contained on site and piped to approved
stormwater system;
maximum height is 2.4 metres above natural ground level;
floor (or deck) level does not exceed 500mm above natural ground level;
not located in a conservation precinct.
If all of the above criteria cannot be met it is recommended the proposal be discussed with a Council Building Surveyor.
Note:
It is strongly recommended that you discuss the proposed location of the garden shed with your neighbour if you intend locating it up to
the side or rear boundary, or intend to use reflective material.
Some lots in some areas have restrictive building covenants and/or a detailed site plan. Please check the appropriate requirements before you buy or build a
garden shed.
All garden sheds with a floor area greater than 10 square metres will require the submission of a building license application.
Sheds, garages or cubbies with a floor area greater than 10 square metres must comply with the prescribed boundary setbacks for the property.
Some sheds, garages and cubbies will also require Planning Approval (e.g. rural and conservation areas, properties subject to flooding or exceed certain floor areas and ridge heights) before you can commence construction.
What is a class 10A building and what does it mean? - click here.

Queensland
Sheds are Class 10a (non-habitable) structures under the Building Code of Australia.
According to the Building Regulation 2006, you do not need building approval if your shed is
no more than 10 square metres in area after building work is completed
no more than 2.4 metres high (with an 'average mean height' of no more than 2.1 metres)
no longer than 5 metres along any side
If your shed does not fulfill all of these requirements, you will need to lodge a building application and have it assessed by a building certifier.
To be approved, your shed will need to meet specific regulations relating to design and location. These are outlined in the Queensland Development Code. There are different regulations for properties that are 450 square metres or less in size (a small lot) and properties over 450 square metres.
Generally, garden sheds having a floor area less than 10 square metres or having any side less than 5 metres in length will not require development approval.
All garden sheds are to be located a minimum of 6 metres from any road boundary (i.e. front fence line). The side and/or rear boundary clearance is dependent upon a number of factors and should be discussed with officers of Council's Building Section.
The shed must be securely fixed to a concrete slab, footing or similar.
Should be clear of Council sewers and stormwater mains (Required distances stipulated by Local Authority).
Roof water must be dispersed to a lawful discharge point without causing a nuisance to neighbours.
What is a class 10A building and what does it mean? - click here.

Author: Alex Cochran